Salah Tuition - 1 to 1 - At your pace
1 to 1 Tuition at a pace to suit you.
*****
Concentrate on the topics you are struggling with.
*****
Private and 1 to 1 – So you can ask questions without embarrassment.
*****
This is an opportunity to correct any mistakes and pray according to the Sunnah of Prophet Muhammad (PBUH).
*****
All aspects of Salah covered.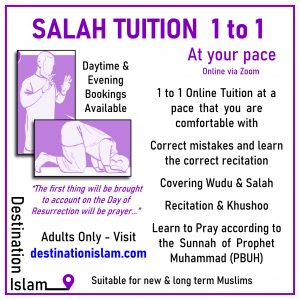 Please register using the form below – We will call you to arrange your booking.

UPDATE: We have many people registering but then not answering their phone when we call. We will call you from an 0116 prefix number. Please do not register if you do not like to answer your phone, it just wastes our time. Jazaak'Allaah Khair.