Reconnect with your Faith - 1 to 1 Tuition
Want to really understand and reconnect to your faith?
*****
Didn't really get it the first time around?
*****
Want to learn True Islam and drop traditions?
*****
Want to ask those questions you have always been worried about asking?
*****
Want to love and embrace you faith?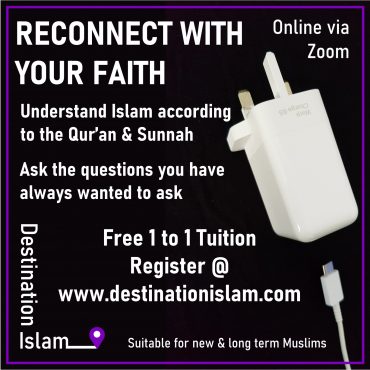 We will cover all the basics as well as looking at how to practically apply Islam to your life.
Articles of Faith – Five Pillars – Islam in your Life.
Practical issues which we all face.
A chance to really reconnect to your faith with understanding.
Discuss any topic. No subject taboo.
Based strictly on the Qur'an and Sunnah of Prophet Muhammad (PBUH).
Suitable for new and long term Muslims.
Group sessions available – Why not do this together with your family or friends.
There is no set agenda. We work at your pace.
Bring your questions and topics you would like discussed.
UPDATE 20/01/2022 – Due to the high number of no shows and last minute cancellations, we have been forced to implement a non-refundable nominal charge: £5 for daytime sessions (before 5.00pm) £10 for evening sessions. We are very sorry for having to do this, but it seems to be a case of people not valuing something when it is offered for free. Payment must me made at the time of booking and is non-refundable if you do not attend or have to cancel for any reason.

REGISTRATION REQUIRED – Please complete the form below – We will call you to confirm your request.
This course is for Muslim adults Only.