Learn Fatiha & Salah Recitation - 1 to 1
Why should you learn how to recite Al-Fatiha correctly?
* Fatiha is the heart of Salah
* Fatiha is a coversation with Allaah
* Fatiha is a Pillar of Salah
* Reciting incorrectly can change the meaning
Most importantly,
Al-Fatiha is the key to attaining Khushoo in Salah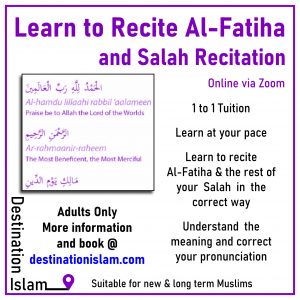 The cost is £6.00 (Daytime Booking Fee*) per hour.

*Please note this payment is non-refundable and will be lost in the event of missed, cancelled or rescheduled bookings.
Read Here why we do not offer free 1 to 1 tuition anymore.

Please register using the form below – We will call you to arrange your booking.