Basic Arabic & Tajweed Tuition
1 to 1 Tuition at your pace.
*****
Learn how to pronounce the Arabic letters correctly.
*****
Private and 1 to 1 – So you can ask questions without embarrassment.
*****
Learn to recite correctly in your Salah and attain Khushoo.
*****
Recite Qur'an correctly.
*****
Tuition via Zoom (No camera, screen sharing only)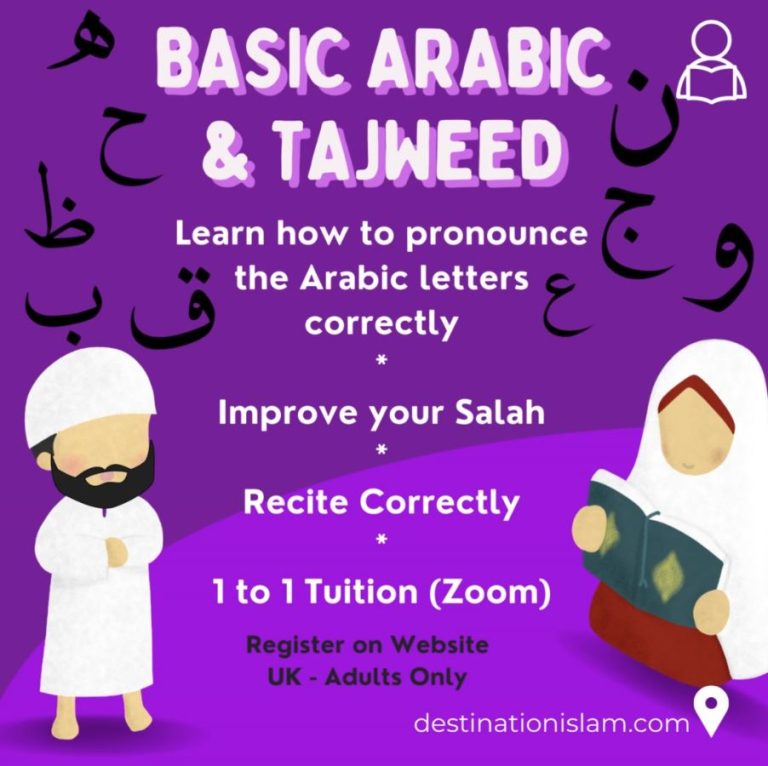 This tuition is for ADULTS ONLY. We do not teach children. We reserve the right to ask for age confirmation from younger students.
Tuition Structure:
Basic Arabic and Tajweed – Correct Recitation of Salah – Small Surah Recitation 

Tuition Cost: (Each tuition session is approximately 25-30 mins)
_
Mon-Fri – 9.00 am to 5.00 pm : £4.50 per session
–
Mon-Fri – 5.00 pm to 7.00 pm : £5.50 per session (Limited Availability)
–
Mon-Fri – after 7.00 pm : £7 per session – Fully Booked
–
Weekends – from £10 per session – (Limited Availability)

Please register using the form below – We will call you to arrange your booking.

UPDATE: We have many people registering but then not answering their phone when we call. We will call you from an 0116 prefix number. Please do not register if you do not like to answer your phone, it just wastes our time. Jazaak'Allaah Khair.